Garden Light Decoration
£3699

£36.99
IMPORTANT - Coronavirus : note published on the 23/09/2023. We would like to inform you that our online shop continues its activity without any problems. We take care of sales, commercial follow-up and shipping.
Discover this LED garden light and enjoy a magical decoration in your garden.
Create a peaceful and welcoming atmosphere in your garden with this beautiful cascade of tiny lights.
CHARACTERISTICS: 
Powder-coated steel, copper wire with warm white LED, plastic battery case.

Hook dimensions: 20 cm wide and 60 cm tall.

Dimensions of the watering can: 18 cm x 13 cm

Garland lights: 30 cm

Weatherproof
Set on a 6-hour on/18-hour off-cycle, this Garden Light Decoration is perfect for illuminating your garden. 
The warm white microdot LEDs are suspended from a thin copper wire. The slightest breeze will bring movement that will add magic to your decoration.
The LED lights turn on automatically through a programmed timer.
The battery case stays dry because it's located on the inner hook.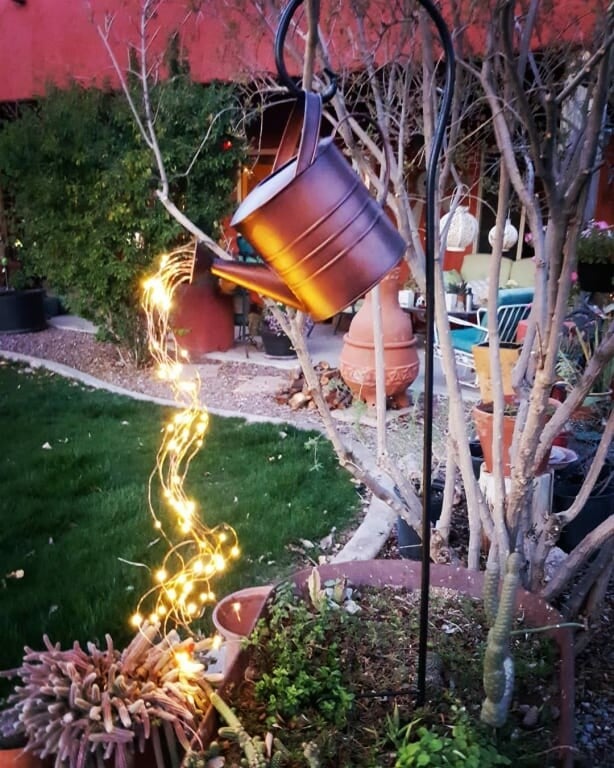 The battery case stays dry because it's located on the inner hook.



OUR GUARANTEE:
We strive to offer you the most innovative products on the market. We give you the guarantee that you will be 100% satisfied. If you are not satisfied for any reason, contact us and we will make sure to solve your problem.

This is a limited-time offer. Order yours while there's still time.
GET IT BEFORE IT RUNS OUT OF STOCK!